Ho, indeed. It's finally time to start making a list and checking it twice. If I were rich, I would make high-end stockings for all of my girlfriends and stuff them with the following. Since Dave would implode if he saw how much such a stocking would cost per person, I'll have to limit myself to giving single items to my ladies. Still, a girl can dream…and share her dreams with her lovely readers (that's you!). These are a few of my favorite things…I give each and every one of 'em the Wiggs seal of approval.
1. L'Occitane Amande milk concentrate lotion and shower oil. ($40.90 and $22.00, respectively) I own both of these and they blow my mind on a regular basis. I smell so good that I get strangers approaching me on the street to compliment me. A completely and totally awesome friend turned me onto the lotion and it wasn't long before I was impulse buying every product in the line. But the lotion and oil are the most amazing.
2. Rubis combination slant/point tweezers. ($27.50) Dave checked my Amazon Prime receipt when I got these in the mail the other day and nearly burst a capillary when he saw that they cost 30 bones. I gently told him they were replacing the old pair that I've had for SIX YEARS AND I HAVE NEVER FOUND THEIR EQUAL DESPITE NUMEROUS SEARCHES AND I WOULDN'T HAVE TO REPLACE THEM IF SOMEBODY HADN'T DROPPED THEM POINT-FIRST ONTO THE MARBLE FLOOR AND DULLED THEIR TIPS.
3. Molton Brown soothing hand lotion in rose granati. ($22.99) When I lived in London, I walked by Molton Brown's flagship store every day on the way to work and eventually the smells seduced me inside. This hand lotion kills me every time. And the smell is amazing because it's delicious while being gender neutral for the men in your life. I keep it by the t.v. and put it on after I come home from school with my hands shriveling from handling paper all day.
4. Mistral liquid hand soap in Grapefruit Red Currant. ($19.00) If you can resist eating this stuff, good on ya. It also keeps your hands soft and makes your bathroom smell like a dream.
5. Laura Mercier honey bath in creme brulee. ($40.00) I take a bubble bath every month…ahem…yeah. You know when. Also, when I get a crick in my neck, which is happening with increasing frequency as I get older. Oh, Wiggs family back problems. I was a fool to think I would avoid you. Anyway. This bubble bath also smells edible. Baxter loves it so much he jumps in with me and won't get out, even after he's figured out that the bubbles are hiding his arch nemesis: water. The extra bonus is that this stuff makes our skin baby soft when we get out and have to run wildly around the condo, scraping ourselves along the wall in a vain attempt to get dry.
6. Rosebud Strawberry lip balm and moisturizer. ($7.00) It does the trick. Not like my old favorite, but the cute tin makes up for it, as does the buttery texture.
7. Kinerase Hydraboost. ($75.00…ouch. But totes worth it for me.) Oh man, you guys, this crap has saved my life here in Chicago. See, in the summer, it's so humid that you could make a living selling your nose grease to Exxon. But then the climate does a 180 on you overnight and the next thing you know, your skin is cracking open and bleeding from being so dry. My sensitive face immediately breaks out into horrible, angry, red zit-slash-raw patches and I look like I have chicken pox. Hydraboost is wonderful – it's soothing and ultra-moisturizing but it has zero oil. Ahhh…I'm going to go slather some on right now.
8. SkinCeuticals Phyto Corrective Gel. ($49.56) Another skin saver, also introduced to me by my hatefully perfect friend. This is a good year-round treatment for red, sensitive skin. It's great for all skin types and is perfect to put on under all of your other treatments to make your skin soak them up better. You only need 2-3 drops a day so it lasts for-EVER.
9. Illume ceramic candle in Eggnog Latte. ($20.00) This dude smells like Santa's farts: aka, delicious holiday cookies. When I burn it, Baxter flips out because he wants to eat it, and he spends the whole time trying to decide if he's willing to brave the flame to get a bite. So far we haven't had any nose burns. Probably because I don't let him get close enough to actually touch it.
10. A sweet little swan ring holder. ($29.95) Since most of these gifts don't mix well with rings, I'd want to give my gals a ring holder so they can safely park their jewels while they lotion/lather/bathe/tweeze/etc.
Ahem. So…the total cost of these hypothetical stockings would be…$353.90. Whoopsieees.
And let's talk about the stockings I would stuff, were I rich beyond belief, and had I already made multiple large charitable donations this year.
Yep. That looks about right. Those dudes will only set you back about $195 a piece. Those are so ridiculous that I can't even fantasize about them properly. Maybe something a little more budget-friendly for this dream of mine: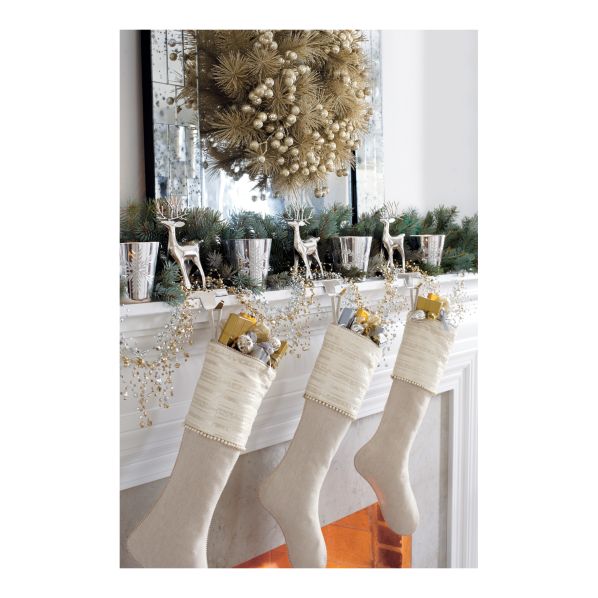 Tharrr she blows…at 20 bones a pop, I guess I can feel less guilty about my hypothetical Christmas shopping, in the alternate dimension where my name is Oprah Stewart and I'm the love child-slash-heiress of Oprah and Martha.
[EDIT: Dave asked me, as he was reading this post and vociferously protesting the fact that he did indeed drop my tweezers on the ground, if I had been paid to write about any of these products. The answer, alas, is no. I just really love the stuff I use, I suppose. I wonder if I should show my write-ups to the people who make this stuff and see if they'll give me some free samples. Or a check for a million dollars.]